Supplementation has been around for a long time as a solution to fill nutrition gaps.
Figuring out your nutritional needs has, until recently, been fairly generic and based upon population data. Most multivitamins on the market tailor their formulations to particular groups, such as men, women, kids, people ages 50+, etc. While this delivers nutrition suited for those groups, it doesn't consider your individual characteristics or behaviors, which are important indicators of what nutrition you need.
For instance, women have different nutrient needs than men, including often needing fewer calories and less protein than men. Yet despite women being smaller and needing fewer calories than men, they actually have higher needs of some nutrients, specifically calcium, iron, folate, and iodine. Just within these four nutrients, there are multiple considerations for women that may direct vastly different supplement recommendations.
Then add on specific nutritional needs based on lifestyle choices, heredity, health goals. Plus supplements for energy, stress, heart health, joints etc. and the nutritional needs and supplement options become vast. How many times have you stood in a grocery store or health store looking at rows and rows of vitamins and not know what to take?
Everyone has unique nutrition needs that a single daily multivitamin can't meet that only. This is where a precisely personalized Meology™ supplement plan comes in.
The Era of Personalized Nutrition Is Here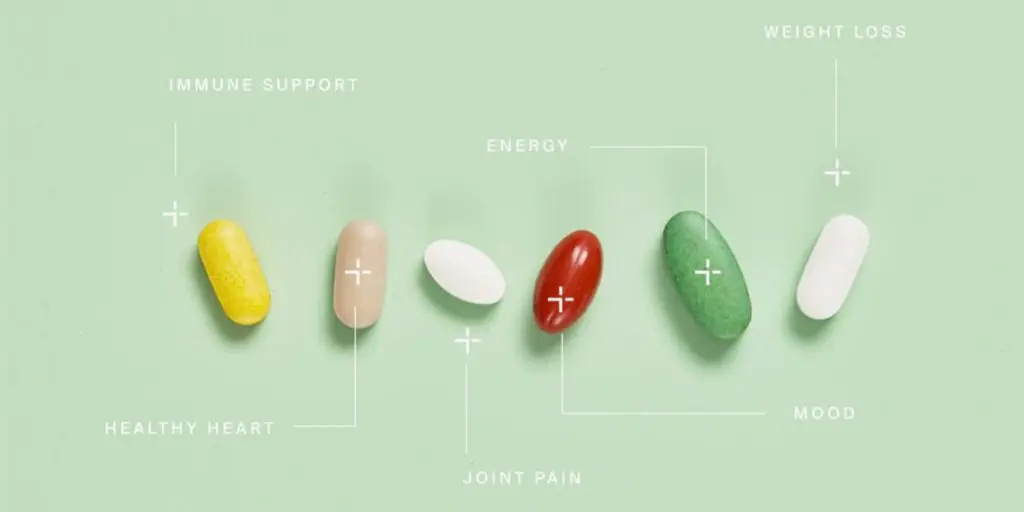 Me+ology is the perfect way to learn more about your health and take a step forward in your health journey.
The precision-based approach of Meology considers all the individual things about you and how they interact and come together to make you, you. This includes your diet, lifestyle, behaviors, health goals, and health history.
With a quick assessment from you and 100+ years of Shaklee science and experience, the Meology algorithm can go through 110 million supplement combinations and over 640,000 unique decision points to create one precisely personalized supplement plan that matches your unique nutrition needs! Think of it as your personal nutrition matchmaker.
How Me+ology Works:  
There's only one you. That's why Shaklee created Meology, a personalized supplement plan for you and you alone. No more guesswork. Meology assesses 1,000+ factors to reveal what you need and why. Here's a short video on how Me+ology works.

Meology starts with a five-minute assessment with questions about you, your lifestyle, health goals, and family history. It's a powerful nutrition assessment for much less cost than a one-on-one dietician consultation.
These answers then go into the powerful Meology algorithm and product recommendation engine developed by Shaklee scientists and reviewed by a scientific advisory board of leading nutrition and personalization experts.
The Meology algorithm takes your responses and instantaneously analyzes millions of data points to identify your nutrition needs and create a supplement plan with the right amounts of nutrients.
Shaklee then refines this recommendation based on your food allergies, dietary preferences, medications, and life stage so that you don't have too much or too little of any nutrient.
Me+ology delivers an Essentials Plan that includes the supplements that are most important and foundational to you. And an added Essentials Plus Plan the includes more targeted solutions for your needs and goals.
The result is one Meology supplement plan made only for you. Your recommendations get ranked and explained with science-based reasons for those recommendations. Then your supplements are placed in convenient, daily-dose packs and delivered right to your door.
The Me+ology Difference
The patent-pending Me+ology algorithm is one of the most advanced health algorithms ever created. Giving you a level of personalization beyond what you'll find from other companies that use a select few questions and possibilities.Plus, the Shaklee supplements recommended in your Me+ology plan are of the highest quality. Safe, proven, and guaranteed.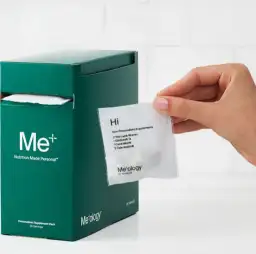 Safe
To guarantee the purity and potency of our products, Shaklee performs over 100,000 quality tests annually.
Proven
Backed by over a century of innovation, 100+ patents and patents-pending, and over 100 published scientific studies.
Guaranteed
Shaklee stands behind every product with a 100% money-back guarantee—no questions asked.
Me+ology simplifies and personalizes your path to better health. No more guesswork. No more trial and error. Take your Me+ology Assessment HERE.
Take the Me+ology Challenge: Feel Amazing in 30 Days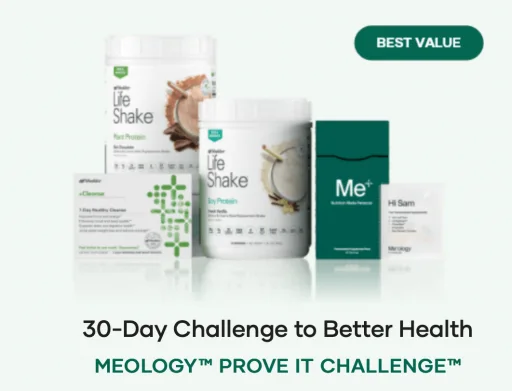 Shaklee is so confident of how good you'll feel with Me+ology that they've put together a Meology Challenge designed so you can prove it to yourself how good you can feel. The Me+ology Challenge Includes your personalized daily-dose Me+ology Pack plus a deliciously nutritious protein-rich Life Shake that taken together will help you feel your best, healthiest self after 30 days — guaranteed!
The Me+ology Challenge also includes a FREE 7-Day Health Cleanse ($48.45 retail value) to jump start your health journey. Plus, free shipping ($8 value) on your order. And a free Shaklee Membership ($19.95 value) that gives you 15% off on all Shaklee products from now on and access to further loyalty discounts and monthly specials — all for the low price of $159!
You're unique, and your nutrition plan should be too. Let's help you get started on your journey to better health with Meology. Take the Me+ology Prove It Challenge and experience what optimal health really feels like.
It all starts with a few questions so we can get to know you. Ready to get your personalized plan and feel healthier, more energized, and more focused? Take the Me+ology Prove It Challenge Assessment HERE.
Enter your email to get this article in PDF format