Why should you choose eco-friendly household cleaners over conventional, chemically scented, harsh toxic cleaners found on grocery store shelves? The answer is in the question itself.
According to a 2013 report by the National Capital Poison Center, 55 percent of poison exposures involved medications, pesticides, and household products. Of that, over 2,700 of the cases involve children over 6 years old: 1,758 were due to cleaners, 509 were caused by antimicrobials, and 470 were due to pesticides.
Ask yourself this question. Would you trust a product whose ingredients can bring serious harm to your children, loved ones, and pets? If you want your home to be a healthier, safer place, replacing these types of products would be an excellent place to start.
Have you ever noticed that the labels of cleaning products have no list of ingredients?
In the US and Canada, companies making household cleaners aren't required by law to print a full list of ingredients on their packaging. That means you ha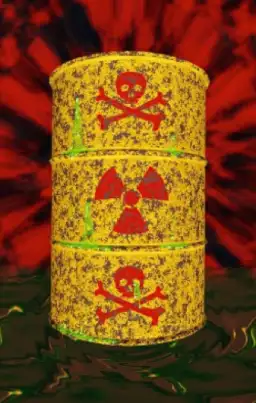 ve no idea what you're exposing yourself and your family to when you mop your floors, wash your windows or clean the oven.
And of the over 80,000 chemicals registered with the EPA (Environmental Protection Agency) fewer than 20% have been tested for toxicity!
I think that's scary and downright dangerous.
1 in every 10 school-aged kids have asthma and kids missed 14,000,000 school days a year because of asthma. Which they now believe this is linked to poor indoor air quality caused in part from chemical cleaners.
And that home cleaning products may be as harmful as 20 cigarettes a day!
A study by scientists at the University of Bergen in Norway finds that regular use of cleaning sprays can have the same health impact as smoking a pack of cigarettes a day
The big loophole exists because there aren't any testing requirements for most of the chemicals in cleaning products.
I like that in Europe, they reverse the burden of proof. Manufacturers have to show that chemicals are safe before they introduce them. In the U.S. and Canada, chemicals are innocent until proven guilty.
So it begs the question…
Why do so many brands use toxic ingredients?
The answer is simple. It's cheaper and more profitable for them.
Hidden ingredients in your cleaning products can hurt your family and our environment.
It floors me that some laundry detergents can induce asthma and they're still allowed to sell it.
Or that cleaning your bathtub may be exposing you to cancer-causing substances and even your dish soap may be doing damage to the fish and aquatic life near your home.
Here are just 3 of the killer chemicals you may not find on the label
3 Killer Chemicals Found in Typical Household Cleaners 
1. Sodium Hydroxide
Found in: Dishwashing liquids, laundry products, oven cleaner, scouring cleansers, tub and tile cleaners
Side effects: Inhalation is immediately irritating to the respiratory tract. Contact can cause severe damage to the eyes, skin, mouth, and throat and can cause liver and kidney damage.
2. Hydrochloric Acid
Found in: Order eliminators and toilet bowl cleaners
Side effects: Can cause severe damage to the skin. It can be harmful to health if inhaled and can also be fatal if swallowed.
3. Butyl Cellosolve
Found in: Cleaning wipes, degreasers, floor polish, rug shampoos, toilet bowl cleaners, tub and tile cleaners, and window cleaners
Side effects: Can cause irritation and tissue damage from inhalation.
What's Under Your Sink?
Chlorine bleach is the chemical most frequently involved in household poisonings in the U.S. and may cause reproductive, endocrine and immune disorders.
Degreasers may contain petroleum distillates, which can damage lung tissue and dissolve fatty tissue around nerve cells.
Glass cleaners often contain ammonia the fumes of which can irritate the skin, eyes, and respiratory system.
Oven cleaners can be one of the most dangerous cleaning products, which can cause severe damage to the eyes, skin, mouth, and throat.
Toilet Bowl cleaners can be harmful just by breathing the fumes. And fatal if swallowed!
I know sometimes it easier to just buy what's in the store, but if you're still buying chemical cleaners who knows what it's doing to you.
Did you know that many doctors and cancer treatment centers, tell patients to rid their homes of conventional cleaning products once they've been diagnosed with the big "c"?
So I have to ask, why not get rid of them earlier? Why wait for illness before reducing your exposure to known or potential cancer-causing chemicals.
Despite the negative impact of many household cleaners, many people seem willing to take the risk. For one, conventional cleaners like bleach are cheap, or so it seems. They seem to be effective against a broad range of hard-to-remove stains and dirt. Another thing is that we have become conditioned to believe that certain strong, chemical smells are the sign of a truly clean home. Unfortunately, this is far from the truth.
What if you could have products that are backed by science, that work great and are tested to be extremely safe for everyone in your home, too?
Please read on…
Most companies that sell home cleaning products allow their formulators to use any legal chemical ingredient, right up to the maximum concentration allowed by law. They will also use extremes of pH that can be irritating to the skin and lungs. These products will have warning labels, but we see so many warning labels that we tend to ignore them. In the case of such products, you really must pay attention to the warnings. The commercials might show a homeowner using the product without gloves, with no evident open windows or exhaust fans on, with a pet or child right there. They want you to think the product is safe, regardless of what the fine print on the label says.
Shaklee took a different approach, making safety the paramount consideration. Shaklee thought about how cleaning ingredients can cause harm. As a result, many legal ingredients were not allowed. Extremes of pH were not allowed. Shaklee was also one of the first companies to offer phosphate-free cleaning products, so much better for the environment. And the cleaning compounds (surfactants) are readily biodegradable, meaning they break down quickly in the environment. That's particularly good if you have a septic system or use water from the laundry to water your fruit trees. And the fact that Shaklee cleaners are so concentrated also greatly reduces packaging waste.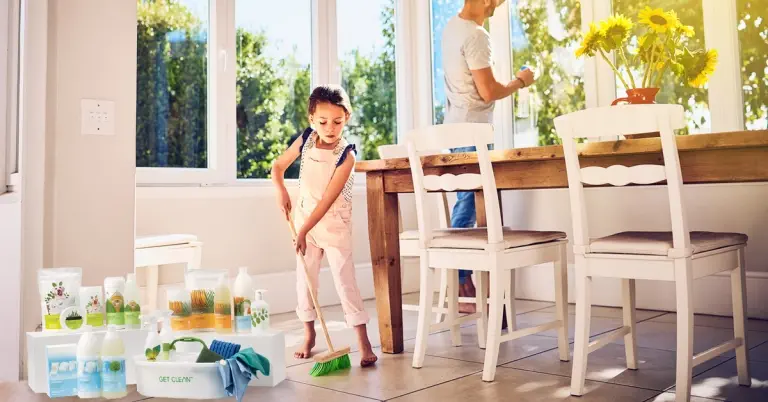 Safe Clean
– Shaklee Get Clean green cleaners have no ingredients that could be harmful to your health or the environment. They are perfectly safe for pets, children, and adults.
That's really important because pets and babies, because of their smaller body mass, absorb toxic chemicals faster than adults. Conventional chemical-laced cleaners stay on surfaces, get absorbed through the skin, and accumulate in the bloodstream, which is disastrous for both humans and animals.
With Shaklee Get Clean, you get cleaners that are non-toxic and natural. In fact, Get Clean is the only cleaning line with no safety caps!
– They're readily biodegradable— in less than 28 days.
– They contain no phosphates or phthalates.
– They use plant-based, not petroleum-based ingredients.
Having household cleaners you can safely use for cleaning your baby's playpen or your furry friend's food bowl is such a blessing.
Powerful Clean
But are they as effective? If you're used to using regular store-bought cleaners, you may think they work better and are less expensive than green cleaners. But Shaklee Get Clean green cleaners have been proven to outperform 16 national brands of cleaners. And not just other green cleaners, but big-brand non-green cleaners as well.
Green Clean
Studies show that mass-produced commercial cleaners that are marketed as "green and environment-friendly" are not exactly as green as they claim to be. There's even a name for that seemingly innocent deception. It's called 'green-washing'.
Most of them still contain hazardous chemicals such as glycol ethers, a deep-absorbing stain remover that can cause anemia, skin irritation, and birth defects.  What's worse, these products can penetrate the skin even when you're wearing rubber gloves!
Shaklee relies on nature's most potent stain removers and antiseptics that were designed with patented technology to target stains, fungi, molds, and bacteria up to 72 hours after application without breaking down the natural makeup of  any surface or fabric.
Get Clean products are made from sustainable ingredients from natural sources. They're also ultraconcentrated and use recyclable packaging to save on packaging waste in the landfills. So they're good for the earth.
To make the switch from chemical-laden household cleaners to Get Clean we'd like to suggest the Shaklee's Get Clean Starter Kit.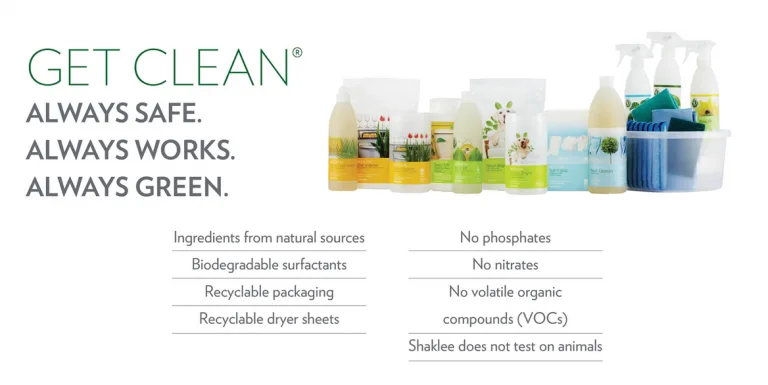 It contains safe, green cleaners for every room in the house, including the laundry room. It includes Shaklee's Famous Basic-H2 organic super cleaning concentrate, that's three cleaning products in one with literally 1,001 uses! Nature Bright Laundry Booster and it's also the best Stain Remover. Germ Off Disinfecting Wipes. Scour Off natural scouring cleanser. Get Clean products for washing dishes by hand and by machine. Recyclable dryer sheets.  Hand Wash Concentrate and Fresh Laundry Concentrate. Plus microfiber cleaning supplies and a caddy to keep them all together. Since the Get Clean Starter Kit replaces so many cleaners, it'll save you a lot of space under the sink! 

Get Clean cleaners work so well, they been featured three times on the Oprah Winfrey Show, including her Favorite Things episode. After using Shaklee's green cleaners, you'll discover they work better than harsh chemicals and they're cheaper in the long run because they are concentrated.
A green and safe approach to house cleaning will help keep you and your family healthy and disease-free. And it'll give you peace of mind knowing you've contributed to a healthier, greener, happier Earth!
NOTE: All statements in this article have not been evaluated by the Food and Drug Administration. These products are not intended to diagnose, treat, cure, or prevent any disease.
SaveSave
SaveSave
SaveSave
SaveSave
Enter your email to get this article in PDF format