According to the Journal of the American Medical Association (JAMA), every adult should supplement their diet with a multivitamin to help maintain good health.
Roughly half of Americans take some sort of vitamin or supplement every day to improve their health and well-being. But what you don't know about the composition of these vitamins can make all the difference.
Most people aren't aware of it, but the ingredients of most vitamins and supplements are produced with little or no scientific supervision.
You have no guarantee about the purity or quality of the raw ingredients. It's a sad fact that manufacturers are not required to provide any scientific evidence of efficacy or safety.
In the supplement industry, you can put a product on the market without having to make any investments in learning whether it has high quality or purity. You don't even have to perform any research to determine its safety. One of the reasons many manufacturers don't do this type of testing is because of the cost.
However, as a consumer, you need to distinguish the companies that do choose to test for purity, potency, and efficacy. The bottom line is that a cheap vitamin with no quality testing is way more expensive than a vitamin that costs a little more but does strict quality testing. Because the cheap vitamin won't work in your body!
Now you may be wondering…
Where do you find a product that's guaranteed, undergoes extensive research, and follows stringent standards?
The answer we found, that fits all of these criteria, came from a natural line of nutritional supplements made by a company called Shaklee.
Shaklee has been committed to creating quality products for over 60 years. To guarantee quality, a company has to make a substantial investment. Equipment such as a mass spectrometer, for example, costs about $200 000 to $300,000 dollars. And to analyze and formulate the product properly, you need more than one piece of equipment.
But these tools are only as good as the people that use them. So Shaklee has hired a lot of skilled scientists.
Of course, scientists cost a lot of money.
The ideal situation is to have expensive, top-of-the-line equipment for analysis, operated by scientists and technicians who have the expertise to analyze your raw materials, ingredients, and resulting supplements. Shaklee has these.
Their claims are not marketing hype.
Any results they state are based on the best science available today.
A great multi gives you a solid foundation to start from.  That's why we recommend Shaklee's Vita-Lea.
What makes Vita-Lea Multivitamin different?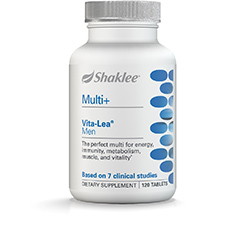 Comprehensive, balanced, and clinically proven.
Provides 23 essential vitamins and critical minerals at clinically proven levels.
Undergoes 349 of the most stringent quality control tests to guarantee the purity and potency of the product.
The patented micro-coating delivery system improves absorption of folic acid.
Offers twice the daily dose of vitamins C, D, and E.
Includes beta-carotene for extra antioxidant protection.
Great prenatal/postnatal vitamin.
Vita-Lea also includes a cutting-edge Bio-Activated Absorption System. Most supplements don't dissolve in the appropriate amount of time. Shaklee scientists discovered that if they put folic acid micro-coating on the tablet, it would allow for immediate release in the stomach. This enhances the absorption of folic acid, which is a crucial B vitamin that helps produce and maintain new cells.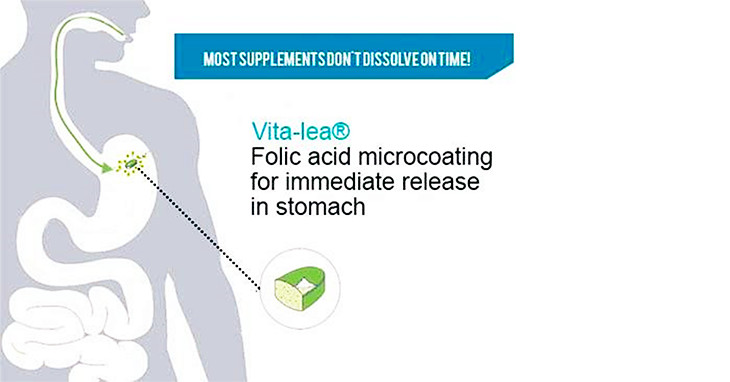 How does Vita-Lea Multivitamin compare to the competition?
Developed based on 7 clinical studies.
Formulated without artificial flavors, colors, sweeteners, or preservatives.
No synthetic processing aids.
Star-K Certified Kosher.
Gluten-free.
A key point when looking at a multi-vitamin supplement is how much biotin is in it. This is an expensive nutrient that is very important for body functions.
The Vita-Lea Multivitamin has 10 times what the competition has!

Vita-Lea Multivitamin provides:
Vita-Lea provides 23 essential nutrients in perfectly balanced amounts to promote overall health and wellness. Vita-Lea supports long-term colon, heart, and eye health and helps strengthen the immune system. Clinically proven to be superior to other leading multivitamins, Vita-Lea contains:
• 2x the antioxidant vitamins C and E for immune function support and prevention of free radical damage.
• 2x the calcium for building bones. Regular exercise and a healthy diet with supplemental calcium may reduce the risk of osteoporosis later in life.
• 2x the magnesium for helping to maintain heart rhythm, muscle, and nerve function.
• 2x the beta-carotene the natural, plant-based form of vitamin A for a more potent vitamin A.
• 3x the selenium to help protect the lung, colon, and prostate.
• 3x the vitamin K to support the bone-building process.
• 6x the boron to aid in the metabolism of vitamin D and support bone health and development.
• 10x the biotin, a catalyst for energy production.
Vita-Lea Quality Control
To guarantee purity and potency, over 340 quality control tests are conducted on each batch of Vita-Lea! Shaklee uses a technology called Explo-tab to test if Vita-Lea properly dissolves and releases its nutrients at the right time. If you cut a tablet of Vita-Lea into fine shreds and look into a microscope, you will be able to see white balls. These fine white balls are starch grains that are absorbed by the body immediately after they disintegrate in water.
In a cross-section, you can clearly see the difference in the quality of the formulations.

Vita-Lea Multivitamin Helps You Feel Better with More Energy!
When you're taking a quality multivitamin like Vita-Lea you'll feel better with more energy. In addition, Vita-Lea offers these health benefits:
Boosts heart health
Boosts your immunity
Increases bone and joint health
Improves the health of your skin, hair, and nails
Vita-Lea Multivitamin for Every Age
Vita-Lea is available in customized formulas based on the needs of men, women, and adults over 50 (with and without Vitamin K). Also available for children, in liquid form and as part of advanced nutrition in a multi-supplement strip.  So whatever your stage of life or nutritional needs Vita-Lea has you covered!
Vita-Lea with Iron For Women
With Iron – Great for prenatal or postnatal.  Vita-Lea with Iron formula contains optimized micronutrient levels designed especially for women before, during, and after pregnancy, and while nursing. Vita-Lea with iron contains 800 mcg of folic acid, 200 mcg of iodine, and 18 mg of iron**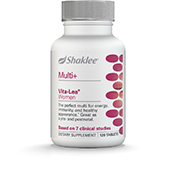 Vita-Lea without Iron for Men 
Men and post-menopausal women usually don't need the extra iron.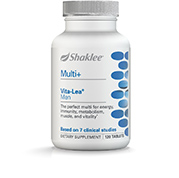 Vita-Lea Gold for Adults over 50 with or without vitamin K.
As you age your body's ability to absorb nutrients begins to decline. So Shaklee added more of critical nutrients to make up the difference. And if you are on blood thinning medications than you'll want the option without Vitamin-K.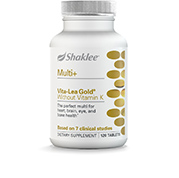 Children's Multivitamins
Shaklee's Vita-Lea Ocean Wonders® is a great-tasting, scientifically advanced and tooth-friendly multivitamin & multimineral formulated especially for children. Chewable and sugar-free, Ocean Wonders promotes the development of strong bones and teeth.
Shaklee's Incredivites supports a healthy immune system in children. Loaded with a comprehensive assortment of 23 essential vitamins and minerals. Each serving features 100% of the Daily Value of all eight B vitamins, as well as vitamins C and E, which play crucial roles in supporting immune function and more. There are no added artificial flavors, sweeteners or preservatives, it's gluten-free, kosher and naturally sweetened with xylitol, which does not promote tooth decay.
Liquid Multivitamins
For those who don't like to swallow vitamins, or need a liquid multivitamin we have two options: Liquid-Lea a high-potency multivitamin and multimineral. Or Citriboost, a multivitamin in powder form you can add to your favorite drink. CitriBoost gives your body the vitamins and balanced nutrition it needs while also promoting long-term digestive health.
Also, for help swallowing vitamins check out our article – How to Swallow Vitamins.
Beyond the Multivitamin – Shaklee Life Strip with Vita-Lea Life Advanced Multivitamin
Finally, for a nutritional program beyond what a multivitamin can do, Shaklee has created the Life Strip.
The Shaklee Life Strip delivers a full spectrum of clinically supported vitamins, minerals, antioxidants, omega-3 fatty acids, probiotics and more in one convenient Vita-Strip™. It features the Vita-Lea Life Advanced Multivitamin which includes additional CoQ10 and Vitamin E for a healthy heart.
The Life Strip help provide you with the foundation for a longer and healthier life. You'll be hard-pressed to find a more comprehensive, scientifically advanced multi-vitamin, multi-supplement strip on the planet.
We hope this helps you make a more informed choice when you decide to shop for your next vitamin supplement. Feel free to contact us with any questions.
Note: Statements herein have not been evaluated by the Food and Drug Administration. These products are not intended to diagnose, treat, cure or prevent any disease.

Save

Save
SaveSave
SaveSave
SaveSave
SaveSaveSaveSave
SaveSave
SaveSave
SaveSave
SaveSave