We all know that eating vegetables is important. Unfortunately, knowing is only half the battle. And when it comes to your kids who are picky eaters, the more difficult half is getting them to eat enough of it to help them get the right amount of nutrients necessary to strengthen their bodies and sharpen their minds.
In this article, we share tips on how you can get your kids to eat more vegetables. And if all else fails, we also share some creative recipes from health and wellness coach Alyson Chugerman that can tickle the taste buds of even the pickiest eaters.
How to Get Your Picky Eater to Eat More Vegetables
1. Set a good example.
Your child learns about food choices from you, so the best way to encourage your picky eater to eat vegetables is to let your child see you eating and enjoying them yourself.
2. Keep trying.
It's normal for children to say they don't like some vegetables when they first taste them. If your child doesn't like a particular vegetable, try offering small amounts of the vegetable with another healthy food that your child likes.
3. Use the carrot instead of the stick when feeding them, uhm… carrots.
If you praise your child each time they eat or try vegetables, they'll be more likely to try them again. Your aim is to encourage your child to eat vegetables, which is why punishing them for not doing so can backfire.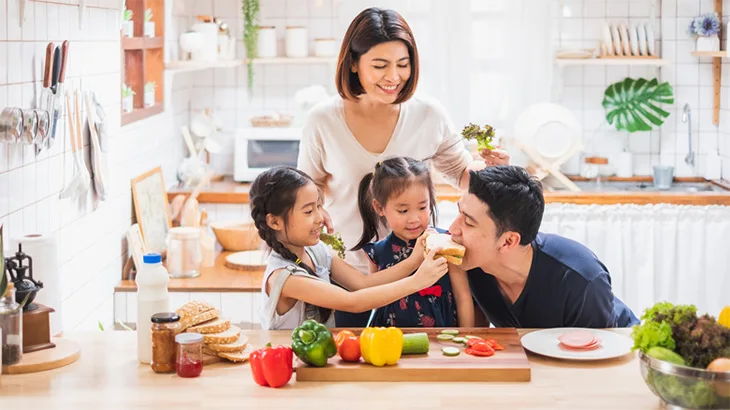 4. Get your kid involved in cooking with vegetables.
If you get your child involved in planning and cooking family meals with vegetables, they're more likely to want to eat the vegetables they've helped to prepare.
5. Offer vegetables as snacks.
Vegetables make great snacks. If you stock up on vegetables for snacks and limit unhealthy snacks in your home, your child will be more likely to choose vegetables when they're hungry.
Alyson's Hidden Veggie Recipes for Picky Eaters
Here are some creative recipes from health and wellness coach Alyson Chugerman that can tickle the taste buds of even the pickiest eaters.
1. Veggie Pancakes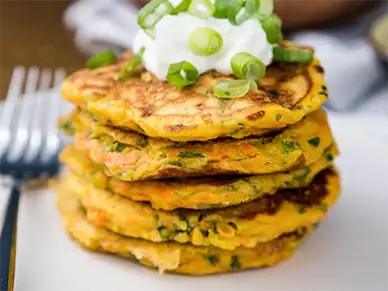 Ingredients:
– 1 large egg
– 1/4 cup milk
– 1/2 cup all-purpose flour
– 1/2 tsp. baking powder
– 1/2 tsp. salt
– 1/2 cup grated zucchini
– 1/2 cup grated carrots
- Cooking oil spray
Preparation:
1. Whisk the egg and milk in a medium-sized bowl.
2. Place the flour, baking powder, and salt together in a bowl and whisk to combine. Add the zucchini and carrots and toss to combine and coat the vegetable pieces.
3. Pour the vegetable/flour mixture into the egg/milk mixture and stir to combine,
4. Coat a sauté pan with oil or spray over medium heat.
5. Place 1 T. of vegetable mixture in pan and cook for 3 minutes on each side or until golden brown. Repeat with the remaining batter.
To Freeze: After cooking, allow to cool, place in a Ziploc bag, label and freeze. When ready, place in oven (or toaster oven) at 300º and heat for 10 minutes or until heated through. Makes 14.
2. Vegetable Lasagna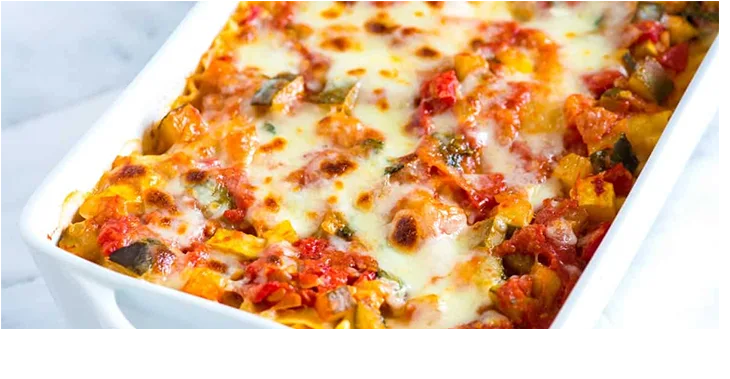 Ingredients:
– 9 lasagna noodles
– 2 T. olive oil
– 1 small onion, peeled and finely diced
– 2 small carrots, peeled and finely diced
– 1 small box sliced mushrooms
– 2 cloves garlic, finely diced
– 1 lb. ground beef
– 1 24 oz. jar pasta sauce of your choice
– 10 oz. bag of spinach
– 1 bag mozzarella cheese
– 1 small container ricotta cheese
Preparation:
1. Bring a large pot of lightly salted water to a boil. Cook lasagna noodles in boiling water for 8 to 10 minutes. Drain noodles, and rinse with cold water. Set aside.
2. Drain pot used for lasagna and wipe out. Add oil to the pot on medium heat. Add onion, carrot and mushrooms, sauté until soft.
3. Add garlic, sauté for 2 minutes more.
4. Add ground beef and cook until brown.
5. Preheat oven to 375º F.
To Assemble:
1. Put a thin layer of sauce on the bottom of a 9X13 Pyrex dish.
2. Layer 3 lasagna noodles lengthwise in the bottom of the pan over sauce.
3. Spread about 1 cup of meat/vegetable mixture over noodles.
4. Then add spoonfuls of the ricotta cheese along each noodle over meat/vegetable mixture.
5. Layer a handful of spinach over ricotta cheese.
6. Then sprinkle with a layer of mozzarella cheese, then top with a few spoonfuls of sauce.
7. Repeat layers twice, and top with remaining mozzarella and Parmesan cheese. Cover with foil: to prevent sticking, either spray foil with cooking spray, or make sure the foil does not touch the cheese.
8. Bake in a preheated oven for 25 minutes. Remove foil, and bake for an additional 20 minutes.
Serves 6.
3. Carrot Muffins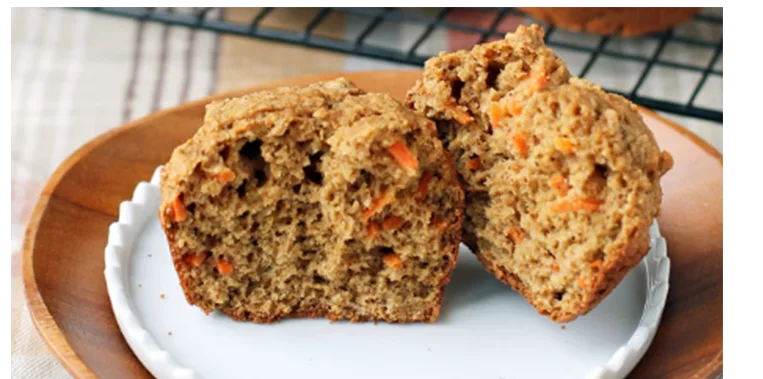 Ingredients:
– 1 1/2 cups carrot cooked and puréed/mashed
– 2 eggs
– 1/2 cup butter, melted
– 1 ¼ cup all-purpose flour
– 2 tsp. baking powder
– 1 tsp. cinnamon
Preparation:
1. Preheat oven to 350º F.
2. Place carrot purée in a large bowl. Add eggs, and butter/oil.
3. Beat these wet ingredients together with a hand-held beater, the batter should become smooth.
4. Add the flour, baking powder, and cinnamon.
5. Beat for a further 30-60 seconds to make a well-mixed batter.
6. Portion into a lined muffin tin.
7. Bake for 15 minutes, cool, and serve.
Note: These muffins can be stored in an airtight container for 3 days, or they can be frozen.
Makes 12.
4. Strawberry Cherry Beet Popsicle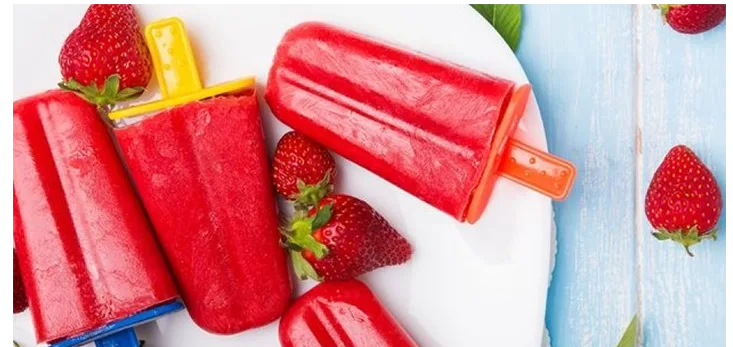 Ingredients:
– 1 cup strawberries, fresh or frozen (thawed if using frozen, but keep juices)
– 1/2 cup pitted cherries, fresh or frozen (thawed if using frozen, but keep juices)
– 1/2 small cooked red beet,
– 1/2 tsp. vanilla extract (optional)
– 2 T. honey, maple syrup or agave nectar (see notes below on honey)
– 1-2 T. water
Preparation:
1. Place all ingredients into a blender and puree for 1-2 minutes on high speed or until completely smooth.
2. Pour mixture into popsicle molds, place in freezer and freeze for at least 5 hours.
3. Makes 8 servings.
Making sure that veggies are a part of your kids' well-balanced diet can help in preparing them to go back to face-to-face classes.
After all, these gifts from nature are still the best—and most affordable—source of all the vitamins, minerals, and other nutrients your whole family needs to stay healthy.
SUPPLEMENTAL GREENS:
Organic Greens Booster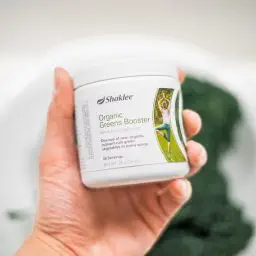 Another way to get more veggies into the diet of a picky eater is to use Shaklee's Organic Greens Booster. This whole food supplement packs the goodness of one cup of raw, organic, nutrient-rich green vegetables into every scoop—including kale, spinach, and broccoli—making it easy to get the vegetables your picky eater might be missing at meals. Just add one scoop or more to your favorite soups, stews, or pasta.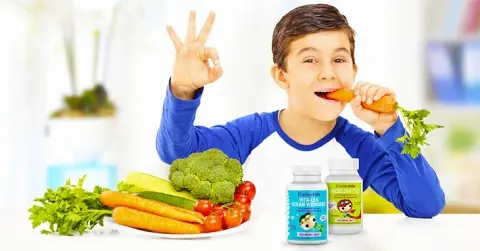 Shaklee Incredivites
Finally, it's important for your kids to get all the essential vitamins and minerals they need to build healthy bodies. To make sure they do, we recommend Shaklee's Incredivites Multivitamin for Children. This powerhouse multi is loaded with a comprehensive assortment of 23 essential vitamins and minerals. Also contains lactoferrin, which supports a healthy immune system in kids.* Chewable tablets in tasty grape flavor, with no added artificial sweeteners, flavors, or preservatives. Gluten-free and naturally sweetened with xylitol, which does not promote tooth decay.
* Note Kosher version does not contain lactoferrin.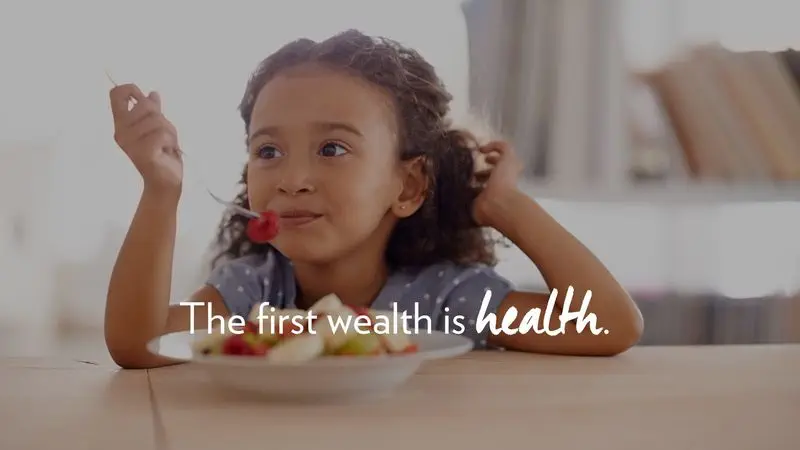 Enter your email to get this article in PDF format