Heart disease is America's leading cause of death and there are numerous factors that can increase your risk. Supportive research has shown the consumption of omega-3's (also referred to as fish oils) can help maintain a healthy heart and cardiovascular system.
Therefore, many doctors recommend supplementing your diet with Omega 3 fatty acids. Supplementing because it's difficult for many people to get enough Omega 3 into their daily diet. 
Why? Because you need at least 2 servings of 3.5 ounces of fish (preferably oily fish) each week and not everyone is able to include fish on a regular basis. 
But like any other supplements, not all fish oils are created equal. There are the good ones and the best ones. 
In this article, we cover four main reasons why Shaklee OmegaGuard is a better choice.
4 Reasons Why Shaklee OmegaGuard is a Better Choice
1. Distillation Process
Regardless of where they come from, all sea-borne fish contain natural contaminants – in particular, heavy metals like mercury and lead, dioxins, and PCBs. In fact, a 1998 study revealed that many globally available fish oil supplements contain pesticides.
There are a number of brands that use high-pressure distillation for oil extraction, however, this technique may kill the nutrients. Some actually extract the oils using HEXANE, which is a synthetic solvent petrochemical.
Shaklee's OmegaGuard undergoes a proprietary state-of-the-art multistep molecular distillation process that:
Concentrates natural, beneficial omega-3 fatty acids, including EPA and DHA
Removes lead, mercury, arsenic, cadmium, dioxins, PCBs, and other contaminants
Reduces oxidation and formation of trans fats
Minimizes odor and fishy aftertaste
2. Fish used in OmegaGuard are sourced out of the cleanest ocean waters.
While molecular distillation removes toxic chemicals from fish, you still want a supplement that's fished out of the freshest, cleanest ocean waters. You certainly wouldn't want to take a soft gel made from fish swimming in polluted waters, would you?
Well, OmegaGuard is not only sourced out of the cleanest ocean water, but its fish oil also comes certified by Friend of the Sea®, an international conservation organization that follows strict criteria for sustainability.
Friend of the Sea tracks fish populations and works with fishermen to set catch limits and avoid harvesting during spawning seasons. Their efforts help ensure a constant supply of high-quality fish oil for Shaklee products without harming the environment.
3. Fish used in OmegaGuard have more potent DHA and EPA levels.
The type of fish a supplement is made from influences how potent the Omega-3 it contains.
Most fish oil supplements use cod, but cold-water fish that inhabit the deeper parts of the ocean such as mackerel, sardines, herring, and anchovies have three times more potent DHA and EPA levels.
OmegaGuard's fish oil has been extracted from cold water deep ocean water fish like sardines and anchovies. Shaklee fish oil is 3 times denser than cod liver oil. It is the source of the most natural and healthy EPA, DHA, and ALA.
4. OmegaGuard offers the combined recommended intake of 500 mg EPA and DHA
Most organizations agree that at least 2 servings of a 3.5 ounce of fish (preferably oily) each week are a good start. That equals about 500 milligrams of EPA/DHA each day. For treating disease, up to 4,000 milligrams per day is recommended by various studies, although values do vary.
OmegaGuard, as stated above, contains 1,200 mg of pharmaceutical-grade fish oil with a total of 667 mg of omega-3 fatty acids.
Helps reduce the risk of heart disease by supporting a healthy heart and cardiovascular system.*‡
Helps support healthy brain function.*
Helps with joint comfort by promoting joint flexibility and helping to keep joints lubricated.*
Helps support long-term eye health and helps keep eyes lubricated. *
Provides immune support and support for healthy skin.*
Give Your Hardest Working Organ The Care It Deserves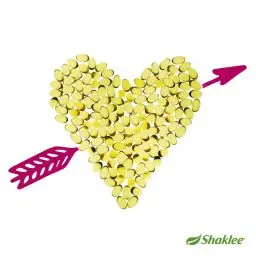 Your heart is the hardest working organ in the body. In fact, even when the brain dies, your heart continues to pump the blood for the entire body! It's an amazing biological fact that demonstrates how crucial your heart's role is for survival and extending your lifespan.
It makes perfect sense to give your hardest-working organ the support it needs to perform better and last longer.
Whether you're young or old, with or without heart disease, it's always best to act early to prevent heart attacks. Natural supplementation with this high-grade and bioavailable heart booster is a safe and effective way to do so.
For more information on OmegaGuard including additional customer reviews CLICK HERE.
Learn more about heart health in our article: Heart Disease Risk Factors.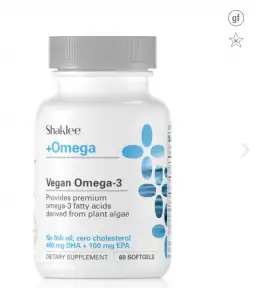 Are you a vegetarian, vegan or just not into fish? Now there's new Vegan Omega-3 that delivers pure, potent, and naturally sourced omega-3 fatty acids from algae that promote brain, eye, heart, and joint wellness.* Every capsule is filled with 100% plant-based DHA and EPA omega-3 fatty acids that are sustainably sourced, so they are as good for the planet as they are for you.
Most people incorrectly believe that fish produce their own DHA and EPA, when in fact it's the algae in their food chain. Vegan Omega-3 goes straight to the source, resulting in a sustainable, high quality product with 400 mg DHA plus 100 mg of EPA per serving. The omega-3 fatty acids in Vegan Omega-3 help maintain a healthy heart and cardiovascular system‡, help retain healthy triglyceride levels‡, and help support brain, eye, and joint health*.
Ocean-friendly/sustainably sourced
No fishy burps or aftertaste
Zero cholesterol
Vegan, Star K Kosher, Gluten Free, Dairy Free, Soy Free
For more information or to order New Vegan Omega-3 CLICK HERE.
OmegaGuard in a MultiSupplement Strip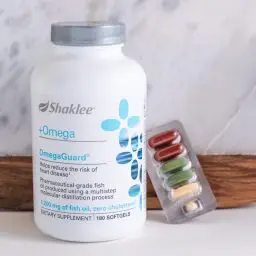 Even if you're conscientious about what you eat, it's challenging to ensure that you're getting the nutrients you need to support optimal health. Shaklee's Vitalizerand Life-Stripcontains pure and potent vitamins, minerals, omega-3 fatty acids, polyphenols, antioxidants, and phytonutrients to help create the foundation for longer, healthier life.
Each multi-supplement strip contains a complete serving of OmegaGuard providing you with a comprehensive way to achieve optimal health.
Not sure if OmegaGuard is necessary for you? Take our Me+ology Assessment that will put together a personalized nutrition program based on your answers and 100 years of Shaklee science. Both OmegaGuard and new Vegan Omega-3 are available if your assessment
‡Supportive but not conclusive research shows that consumption of EPA and DHA omega-3 fatty acids may reduce the risk of coronary heart disease.
*These statements have not been evaluated by the Food and Drug Administration. This product is not intended to diagnose, treat, cure, or prevent any disease.
Enter your email to get this article in PDF format