Why should you choose eco-friendly household cleaners over conventional, chemically scented, harsh toxic cleaners found on grocery store shelves? The answer is in the question itself.
According to a 2013 report by the National Capital Poison Center, 55 percent of poison exposures involved medications, pesticides, and household products. Of that, over 2,700 of the cases involve children over 6 years old: 1,758 were due to cleaners, 509 were caused by antimicrobials, and 470 were due to pesticides.
Ask yourself this question. Would you trust a product whose ingredients can bring serious harm to your children, loved ones, and pets? If you want your home to be a healthier, safer place, replacing these types of products would be an excellent place to start.
It's Not Easy Being Green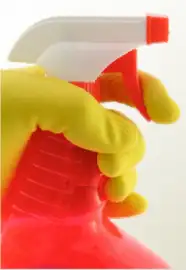 A majority of the cleaning products that we've grown accustomed to contain a myriad of irritating and potentially dangerous chemicals like petroleum, formaldehyde, phthalates, phosphates, ammonia, chlorine and extremes of pH (strong acid or alkali). Many all-purpose cleaners may contain toxins that can be absorbed through the skin or inhaled. Synthetic solvents may cause hormone disruptions. Organic solvents such as butyl cello-solve are neurotoxins and nasal irritants. Another toxin, morpholine, can cause liver or kidney damage. Glass cleaners contain ammonia, a poison that can irritate skin, eyes, and the respiratory system.
Over the past several years, studies have shown these chemicals are not only damaging to the environment but also hazardous to human and animal health.
Despite the negative impact of many household cleaners many people seem willing to take the risk. For one, conventional cleaners like bleach are cheap, or so it seems. They seem to be effective against a broad range of hard-to-remove stains and dirt. Another thing is that we have become conditioned to believe that certain strong, chemical smells are the sign of a truly clean home. Unfortunately, this is far from the truth.
Should having a squeaky clean house cost you your health? What if you could have products that are backed by science, that work great and are tested to be extremely safe for everyone in your home, too?
Please read on…
Three Reasons to Use Shaklee Basic-H2 Super Cleaning Concentrate for a Healthy Home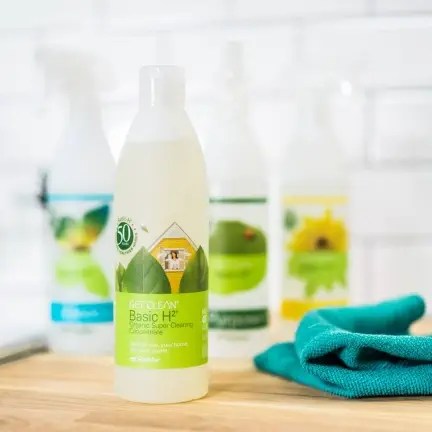 Shaklee Basic H2 Super Cleaning Concentrate, made from carefully chosen, safe ingredients is clinically tested to work better than store-bought cleaners. Here are three reasons why Shaklee Basic-H2 is the perfect solution for safer, more cost-effective house cleaning.
1. Super-Concentrated Powerful and Economical. Many times we choose household cleaning products based on the cost. A common misconception about green cleaners is that they're expensive, so they're often not the first item on the list. What's amazing about Shaklee Basic H2 is how concentrated it is.  An amount as small as two droplets of H-2 can make a 16-ounce spray bottle for window cleaning. In fact, a pint of Basic-H2 makes about 5,824 bottles of a 26-ounce Windex. You read that right! When you translate that to dollars and cents, it means you pay less than 1 cent per gallon of window cleaning mixture.
A mere 16-ounce bottle of the H2 concentrate makes up to 48 gallons of all-purpose cleaning solution, That certainly beats even the least expensive, no-name, dollar store brands! And for those who remember the original Basic-H, Basic-H2 is twice as concentrated!
Finally for those who feel that less toxic options, such as baking soda or white vinegar are an economical 'green' alternative, it would be very hard to beat the cost effectiveness of Shaklee's Basic H2.
2. Green and Eco-Friendly Beyond the Label.  Studies show that mass-produced commercial cleaners that are marketed as "green and environment-friendly" are not exactly as green as they claim to be. There's even a name for that seemingly innocent deception. It's called 'green-washing'.
Most household cleaners still contain hazardous chemicals such as glycol ethers, a deep-absorbing stain remover that can cause anemia, skin irritation, and birth defects. What's worse, these products can penetrate the skin even when you're wearing rubber gloves!  In comparison, Shaklee's Basic-H2 contains no hazardous or toxic chemicals. No chlorine, phosphates or dyes.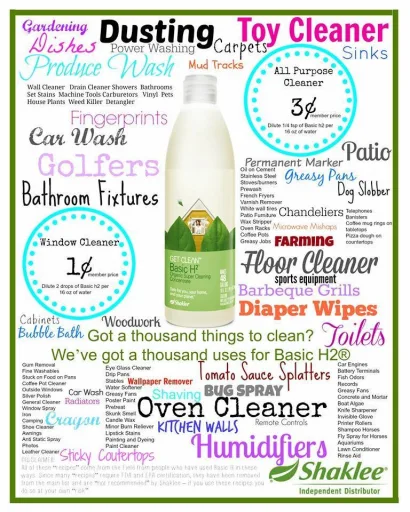 3. Powerful Green Clean: The problem with a lot of green cleaners is that they don't clean as good as non-green cleaners. That's not the case with Basic-H2. It's part of the Shaklee Get Clean line which is clinically proven to out clean 16 national brands. Shaklee H2 relies on nature's most potent stain removers and antiseptics that were designed with a patented technology to target stains, fungi, molds, and bacteria up to 72 hours after application without breaking down the natural makeup of  any surface or fabric. Basic-H2 is all you need for thousands of cleaning jobs around the home. This versatile cleaner removes dirt, grease, and grime from any washable surface, inside and out. Cuts through the most stubborn grease and grime, leaving no smeary residue.
Bonus Reason: Ingredients Perfectly Safe for Pets, Children, and Adults.
Pets absorb toxic chemicals faster than humans because of their smaller body mass. Conventional chemical-laced cleaners stay on surfaces, get absorbed through the skin, and accumulate in the bloodstream, which is disastrous for both humans and animals.  Shaklee's Basic-H2 is pH balanced (same range as your skin) and has no safety cap — it's 100% safe! Safe for your family. Safe for your home, including septic systems and gray water. Safe for the planet because it's totally biodegradable.
Having a general purpose cleaner that you can safely use for cleaning your baby's playpen or your furry friend's food bowl is such a blessing.  And Shaklee offers it!
The secret? It's all in the power of nature!
Here's Dr. Bruce Daggy, former Chief Science Officer of Shaklee, with his take on the Shaklee Difference when it comes to cleaning products: "Most companies that sell home cleaning products allow their formulators to use any legal chemical ingredient, right up to the maximum concentration allowed by law. They will also use extremes of pH that can be irritating to skin and lungs. These products will have warning labels, but we see so many warning labels that we tend to ignore them. In the case of such products, you really must pay attention to the warnings. The commercials might show a homeowner using the product without gloves, with no evident open windows or exhaust fans on, with a pet or child right there. They want you to think the product is safe, regardless what the fine print on the label says.
Shaklee took a different approach, making safety the paramount consideration. Shaklee thought about how cleaning ingredients can cause harm. As a result, many legal ingredients were not allowed. Extremes of pH were not allowed. Shaklee was also one of the first companies to offer phosphate-free cleaning products, so much better for the environment. And the cleaning compounds (surfactants) are readily biodegradable, meaning they break down quickly in the environment. That's particularly good if you have a septic system or, like me, use water from the laundry to water your fruit trees. And the fact that Shaklee cleaners are so concentrated also greatly reduces packaging waste.
Life made easy, economical and hazard-free! For over 20 years, Shaklee Basic H2 has been refined to deliver exceptional cleaning power through nature. By leveraging on the synergy of naturally available ingredients, Shaklee has created a safe product powerful enough for multiple uses with a tiny droplet!
Here are some testimonials from satisfied customers:
"Pleasantly surprised by how effective and versatile it is in everyday application!" I have had this product for a couple of years now and have been pleasantly surprised by how effective and versatile it is in everyday application. I have washed dishes with it, spot cleaned a low-pile carpet with it, pre-treated an extremely dirty linoleum floor before steam-cleaning, cleaned the entirety of a ceramic/tile bathroom with it, washed and dried mirrors so that they are streak less, washed painted walls and veneer furniture, and have even used it a bit in the laundry. All of the aforementioned and I have barely used just under 1/4 of a bottle. Impressive! – B.T.W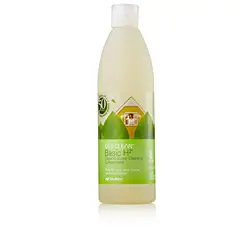 "After 40 years, still the best!" "I first met original blue Shaklee Basic-H in 1970. Since then I have used a few drops in my shaving water every day. About 20 years ago they tweaked the formula, removed the blue color, but retained the name. It still works. Now that my previous 32 oz. a bottle has almost run out, I was delighted to find the Product has been resurrected in its original blue color, with a slightly modified name: Basic H2. Seems to work just as well for me. The nice thing about it, though, it was available in a 16 oz. size. At my present age of 78, I doubt I could outlive a quart this time". – David B.
"Best cleaning agent ever!"" Fantastic product. We've used Basic H products for years and they are simply the best and safest cleaning agent out there.  – Vicky J.
For decades, Shaklee Basic H2 users—many of whom made the switch from traditional household cleaners to the H2 due to asthma and allergies—have found that Shaklee Basic H2 is proof that a super clean home can be achieved without exorbitant costs and the health hazards associated with other cleaners. A clean home should also be healthy and safe, and that doesn't have to cost a lot. Isn't it time you had that kind of confidence in your household cleaners?
For more customer reviews of Basic-H2 or to order this product online CLICK HERE. (Purchase Basic-H2 from us and we'll send you oner 100 cleaning recipes using Basic-H2 to clean everything from appliances to wheels).
Looking for the original Basic-H? It's now only available in 5 or 30 gallon sizes for commercial and agricultural uses. CLICK HERE for Original Basic-H .
Don't stop with Basic-H2! Try all Shaklee's Get Clean cleaning and laundry products. A great way to switch over is with the Get Clean Starter Kit, featured as one of Oprah's Favorite Things! CLICK HERE for Get Clean.
Enter your email to get this article in PDF format