Weight gain after the holiday season is not just common, it's often inevitable. This once-a-year combination of festivities and winter can lead to diets set aside, and exercise regimens skipped. So, if you're looking for inspiration to lose the weight you've gained, here are ten health conditions you can improve by simply shedding a few pounds and maintaining a healthy weight.
10 Common Health Conditions Prevented, Improved, or Even Overcome by Losing Weight:
1. Cardiovascular Disease (CVD)
Coronary heart disease, heart failure, and stroke are the most common types of CVD. People who are overweight or obese often have health problems such as high blood pressure, high cholesterol, and high blood sugar, which all contribute to the development of CVD. Fortunately, losing weight by exercising regularly and eating a nutritious, balanced diet can help lower these risk factors.
2. Type 2 Diabetes
Type 2 diabetes is often related to weight and lifestyle choices. Excess body weight and too much belly fat can cause insulin resistance, which may lead to pre-diabetes and, eventually, type 2 diabetes. Specifically, overeating stresses the membranous network inside of cells called endoplasmic reticulum (ER). When the ER has more nutrients to process than it can handle, it sends out an alarm signal telling the cell to dampen down the insulin receptors on the cell surface.
3. Some Forms of Cancer
Two of the most common types of cancer—breast and bowel cancers—and three of the hardest to treat—pancreatic, esophageal, and gallbladder cancers, are often caused by excess weight. This list also includes breast (in women after the menopause), womb, kidney, liver, upper stomach (gastric cardia), ovarian, thyroid, myeloma (a type of blood cancer), and meningioma (a type of
brain tumor).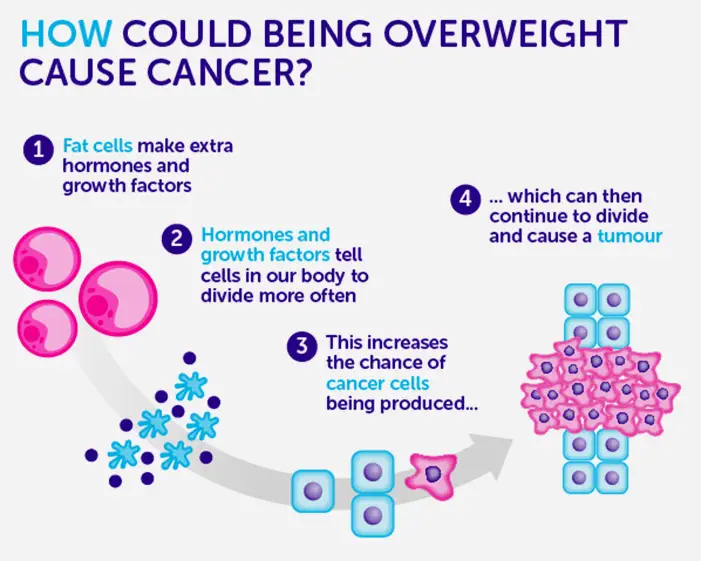 4. Osteoarthritis and Other Joint Conditions
Being 10 pounds overweight puts an extra 15 to 50 pounds of pressure on your knees, which makes it more likely for you to develop osteoarthritis (OA).  Or make the disease worse if you already have it. Carrying extra bodyweight also does more than create a harmful load on joints. Excess fat can speed up the destruction of cartilage. The good news is, losing just 10% of your body weight can cut arthritis pain in half — dramatically improving this common health condition.
5. Liver Disease
Non-alcoholic fatty liver disease (NAFLD) is the term for a range of health conditions caused by a build-up of fat in the liver. It's usually seen in people who are overweight or obese. Having high levels of fat in your liver is also associated with an increased risk of serious health problems, such as diabetes, high blood pressure and kidney disease.
6. Sleep Apnea
Sleep apnea is a relatively common disorder in which people experience disrupted breathing while they are sleeping. In obstructive sleep apnea (OSA), the most common type of sleep apnea, disruptive breathing occurs because of a narrow or blocked upper airway. It's like breathing through a straw. OSA is most common in people who are overweight or obese. Excess weight creates fat deposits in a person's neck called pharyngeal fat, which can block the upper airway during sleep.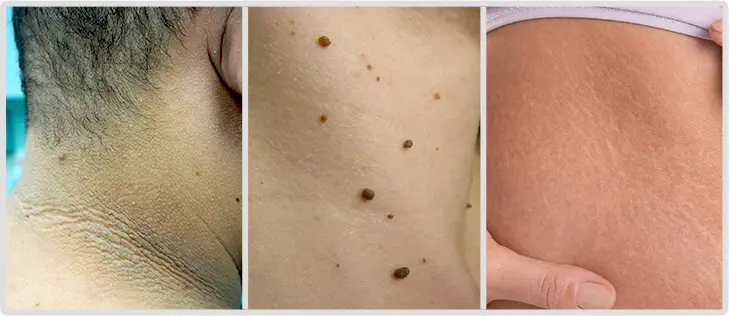 7. Skin Conditions
Science relates obesity to several skin conditions, including acanthosis nigricans, acrochordons, keratosis pilaris, hyperandrogenism and hirsutism, striae distensae, and adiposis dolorosa.
Rapid weight gain and loss can also result in stretch marks, while folds and creases on the skin trap moisture, which makes spots on your body perfect breeding grounds for bacteria, yeast, and fungi.
The strain of bearing excess weight may impact the veins in your legs and result in varicose veins and rupture of surface capillaries.
8. Infertility
Being overweight or obese can affect a couple's ability to get pregnant. According to the American Society for Reproductive Medicine (ASRM), too much body fat causes fertility struggles in 12% of women. Obese men, are more likely to have low or nonexistent sperm counts, according to this article in JAMA Internal Medicine.
9. Gallstones
Being overweight may make you more likely to develop gallstones, especially if you are a woman. Researchers have found that people who have obesity may have higher levels of cholesterol in their bile, which can cause gallstones. People who carry large amounts of fat around their waist may also be more likely to develop gallstones than those who carry fat around their hips and thighs.
10. Gout
Gout occurs when excess uric acid builds up in your body, causing sharp crystals to lodge in your joints. Uric acid naturally forms when you break down purines, a compound found in most foods, but especially red meat, shellfish and beer. Normally, uric acid eliminates through your kidneys. But the more you weigh, the less efficiently your kidneys work.
As you can see, many health conditions are better able to managed or avoided by reaching and maintaining a healthy weight.
If you want to start strongly on your weight-loss journey, watch the video below to discover a science-based approach to losing weight. You'll learn:
The major challenge people face when trying to lose weight
What makes fad diets ineffective
The healthy way to lose weight
Key factors that contribute to a successful weight-loss program
Plus, much more!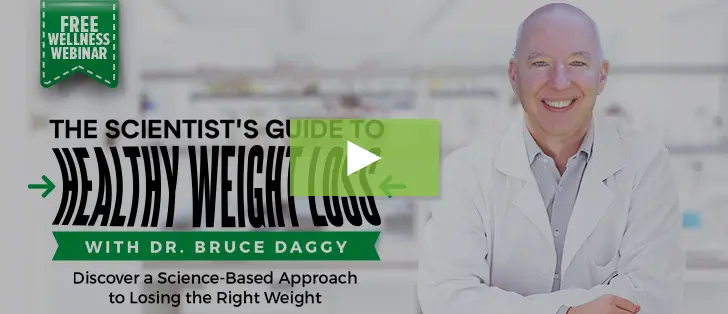 For a clinically proven weight loss program read our article Hunger Free Weight Loss Program
For clinically proven weight loss products CLICK HERE.
Enter your email to get this article in PDF format