Acne is more common in adolescents while wrinkles often come with age. Skin blotches, on the other hand, can occur regardless of your age or gender. It can develop gradually or suddenly without warning, which makes it a cause for concern, especially when you're out and about.
Before we delve deeper into how you can prevent or address this all-too-familiar condition, it's important to first define what it is.
What Is Blotchy Skin?
Blotchy skin is usually associated with red, sometimes irritated and itchy skin, as well as darker patches that most commonly occur on the face but may also appear on the neck and other parts of the body. It can be a reaction to an environmental stimulus, which typically subsides and goes away on its own, or a symptom of a chronic skin condition that needs to be treated.
5 Ways to Address Skin Blotches
1. Conceal – products such as Shaklee's YOUTH Activating BB Cream are available in different shades to match your skin tone perfectly. It can cover up the discoloration while nourishing your skin at the same time.
2. Moisturize and use sunscreen – if your skin is sensitive to the sun, you can use the YOUTH Age Defense Mineral Moisturizer SPF 30 to moisturize and protect it from UVA/UVB damage.
3. Eliminate fragrances – products containing chemical fragrances can cause contact dermatitis. Choose soaps, creams, and other facial products that only contain naturally derived ingredients.
While blotchy or uneven-toned skin is often caused by something simple and temporary, it could also be a symptom of something more serious. It may be caused by the following skin conditions:
Rosacea – a common facial skin disorder that affects 16 million Americans, rosacea usually develops during the teenage years and gradually becomes worse in the 30s and 40s. Its symptoms include redness on the cheeks, nose, chin, or forehead, which may flare up for weeks and diminish for a while.
Eczema – this skin condition affects more than 31 percent of people in the U.S., with 70 percent of the cases starting in children younger than five years old.  It is characterized by inflamed, itchy, red, cracked, and rough patches of skin that can eventually turn to blisters, and is usually triggered by an allergic reaction to nuts, dairy, pollen, smoke, and other environmental factors.
Psoriasis – this immune-mediated chronic disease speeds up the life cycle of skin cells, causing them to build upon the surface and form scales or red patches that can be itchy and painful. As many as 7.5 million Americans have psoriasis, and it usually develops between the ages of 15 and 25. The patches typically affect the elbows, knees, and scalp.
Visiting a doctor or dermatologist may help you determine if you have any of the inflammatory skin conditions mentioned above. However, sometimes it seems like no matter what skin condition you have, the doctor will simply send you home with a steroid cream or some other medication.
Topical steroids are powerful medicines that can often provide immediate relief for itching and inflammation. However, it can produce various side effects that may seriously damage the skin. These medicines don't address the underlying cause or help prevent the condition.
It's important to note that some skin problems are caused by vitamin and nutrient deficiencies.
4. Nutritional Program If you want to go the natural route to manage red blotchy skin, many have had success in minimizing flare-ups by fixing their diet and taking food supplements.
In the article "Red And Sensitive Skin" by Dr. Richard Brouse, he mentioned that rosacea may be due to an inflamed and leaky gut. He recommends adjusting to a low glycemic diet and eating fermented foods and probiotics to get the best improvement.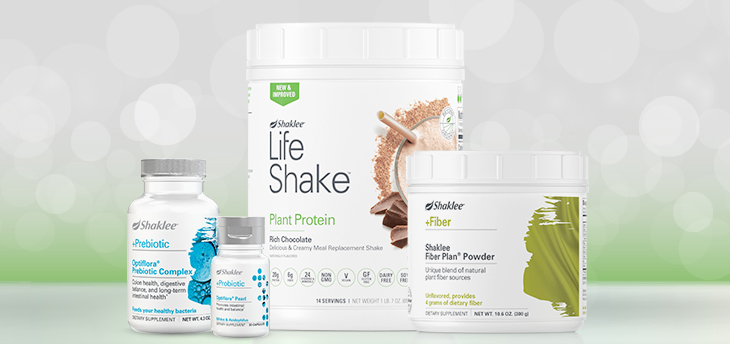 One way to achieve this is by trying products such as the Shaklee Life Shake, Optiflora Prebiotic & Probiotic System, and Fiber Plan Powder.
You may also want to couple a healthy diet with adequate skin hydration by using a line of skin nurturing and conditioning formulas that offer great promise for rosacea sufferers.
5. Using a Healthy Skin Care Regimen: To get the best results, you should use skincare products regularly. Some may take a full skin cell cycle of approximately six weeks to show results while others, such as the products offered by Shaklee, can produce significant signs of improvement in as early as one week.
And while there is no single cream, serum, or supplement, that can provide everything your skin needs to stay young-looking, there are sets of products, such as Shaklee's YOUTH
Anti-Aging Regimen, or the YOUTH Hydration Collection that is designed to work together for improved skin texture, firmness, reduce red, blotchy skin, and wrinkle-reduction.
Shaklee's YOUTH skincare line has been effective for many people with difficult skin conditions. See some of the testimonials below.
"I want to share a little about YOUTH. I have been using it for I guess 3 weeks. I have rosacea and I have had to be on medication since 2009. Antibiotics and topical. Since I started on YOUTH, I decided to not use the medication and my skin has never looked better!" – N. Douglas
"I have had great results with my rosacea – start with the YOUTH basics and then start slow with the Radiance C+E and serum every 3-4 days. Now I use them every day but I had to go slowly. My skin has never been this good. I still have the odd flare-up, but nothing like before." – W. Steadman
"Okay, I am sharing and I can't believe it. I have had bad skin on my eyebrows for years. Probably psoriasis and no creams have helped. After 4 days of using YOUTH, the rest of my face looks better! Amazing!!!!" – D. Burgio
All of the products in the YOUTH skin care line are formulated with powerful botanicals and advanced technology for maximum effectiveness without sacrificing safety and purity. Using these products, combined with a healthy lifestyle, can spare you from the potentially embarrassing situation of having to deal with blotchy skin.
Learn more about YOUTH Skincare in this video:
Thanks for reading.  For more information on achieving healthy skin and why Shaklee's Youth skincare line can be a difference-maker, read our article, Clean Beauty – Why Skin Care Ingredients Matter.
Suzanne & Carl
Enter your email to get this article in PDF format